Convert Trailers to Strollers and Vice Versa
Here you will find a list of dog trailer/stroller conversion kits which will add a another dimension to your existing setup. Be sure to read through the product pages carefully to be sure that an item is compatibile with your existing trailer or stroller and/or bike
Solvit HoundAbout 2 Conversion Kit
Conversion Type: trailer to stroller
Available in both medium and large sizes, the Solvit conversion kit is mainly constructed from lightweight aluminum and includes a 12" swivel wheel, handlebar, parking brake and cup holder. Some mixed reviews for this kit so be sure to read them!
DoggyRide Mini Conversion Set
Conversion Type: trailer to stroller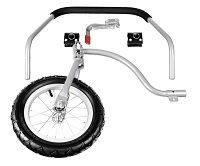 A reasonably well received conversion kit which includes a stroller/jogger wheel, a padded, adjustable handlebar and a parking brake. The wheel has a built-in aligner which can be locked in a straight line if preferred for when used as a jogger. Average reviews – mainly good but some negative.
Petego Comfort Wagon Stroller Kit
Conversion Type: trailer to stroller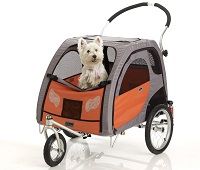 This kit is comes in two sizes, designed to fit either the medium or large sizes of the Petego Comfort Wagon. The kit simply consists of a curved, adjustable handlebar and a pivoting front wheel. Reviews are mainly positive but there are a few negative comments from customers who, we suspect, thought they were going to receive the whole cabin too!
Burley One Wheel Stroller Kit
Conversion Type: trailer to stroller

Compatible with several types of Burley trailers (D'Lite, Encore, Solo, Cub, Honey Bee and Tail Wagon (2007 and newer)) this, as the title suggests, is a single swivel wheel that attaches to the existing tow bar of your Burley trailer. Once in place it can be simply flipped between stroller and trailer mode (see video on product page). Be aware that no handlebar is included which is fine so long as your trailer has one already!
DoggyRide Original/Novel Dog Stroller to Trailer
Conversion type: stroller to trailer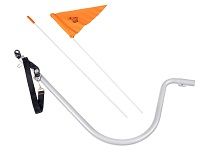 This set simply contains a compatible tow bar for the Original DoggyRide Original or Novel strollers. A bike hitch is also included along with a bright orange safety flag. Basic stuff but easy to install and remove, making the transition from stroller to trailer and back again easy to perform. Great reviews thus far!
DoggyRide Mini to Trailer Set
Conversion type: stroller to a trailer
As with the DoggyRide set above this set simply includes a safety flag, bike hitch and angled tow bar, but this time compatible with The DoggyRide Mini Stroller. The tow bar is easy to add or remove and therefore it's easy to swap between trailer or stroller modes. Good reviews!