Are you an adventurous dog owner looking to share exciting outdoor experiences with your four-legged companion? If so, an all-terrain dog stroller might be the perfect solution to ensure your furry friend can join you on any adventure, no matter the terrain. In this article, we'll delve into the world of all-terrain dog strollers, exploring their benefits , how they can enhance your dog's quality of life. and the factors affecting All-terrain Dog Strollers.
Introduction
Imagine exploring picturesque trails, sandy beaches, or bustling city streets with your furry companion by your side. All-terrain dog strollers offer a revolutionary way to include your dog in various outdoor activities, making your adventures not only enjoyable but also convenient.
Why Choose an All-Terrain Dog Stroller?
Exploring New Adventures
With an all-terrain dog stroller, you can venture into areas that might be too challenging for your dog to navigate on its own. Whether it's a rocky hiking trail or a sandy shoreline, these strollers provide a smooth and comfortable ride, allowing your dog to experience the great outdoors without limitations.
Enhanced Safety on Rough Terrain
Uneven surfaces, rugged terrains, and extreme weather conditions can pose risks to your dog's paws and joints. A stroller equipped with sturdy wheels and durable construction ensures your pet's safety, preventing injuries and ensuring a stress-free outing for both of you.
Factors Affecting All-Terrain Dog Stroller
Size and Weight Capacity
Before making a purchase, measure your dog's dimensions to ensure a comfortable fit inside the stroller. Consider the weight capacity as well – larger dogs require strollers with higher weight limits to prevent discomfort and instability.
Wheel Type and Suspension
Different terrains demand varying wheel types. Air-filled rubber tires are excellent for shock absorption on rough paths, while swivel wheels are ideal for maneuvering through crowded spaces. Suspension systems further enhance your dog's comfort on bumpy surfaces.
Foldability and Portability
A stroller's foldability is crucial for easy transportation and storage. Look for models that can be compactly folded with one hand, making them convenient for trips and storage in smaller spaces.
Durability and Build Quality
Invest in a stroller built to withstand outdoor conditions. A sturdy frame, reliable locking mechanisms, and quality materials ensure your stroller lasts through countless adventures.
Weather Resistance
Opt for a stroller with a weather-resistant canopy to protect your dog from rain, wind, and harsh sunlight. A rain cover or sunshade can make a significant difference in your dog's comfort.
Comfort and Safety Features
Your dog's comfort should be a priority. Look for padded interiors, adjustable recline positions, and secure harness attachments to keep your pet safe and cozy during the ride.
Storage Space
Having adequate storage space is essential for carrying essentials such as water bottles, treats, toys, and even your personal belongings. Some strollers offer additional compartments for added convenience.
Price Range and Budget
All-terrain dog strollers come in various price ranges. Set a budget and explore options within that range. While costlier models might offer more features, there are affordable options that still provide quality and functionality.
Customer Reviews and Ratings
Researching customer reviews and ratings can provide valuable insights into a stroller's real-world performance. Look for feedback on stability, maneuverability, durability, and overall satisfaction.
Exploring Various Terrains
Hiking Trails and Nature Walks
All-terrain dog strollers are perfect for exploring hiking trails and nature walks. Your dog can enjoy the scents and sights of the wilderness while you maintain control and ensure their safety.
Beach Adventures
Sand and saltwater can be harsh on your dog's paws. With an all-terrain stroller, you can take leisurely walks along the beach without worrying about discomfort or paw injuries.
Urban Explorations
City sidewalks and crowded streets can be overwhelming for dogs, especially in bustling urban environments. A dog stroller allows your furry friend to enjoy the city without feeling stressed or anxious.
Best All-Terrain Dog Strollers
Petique Trailblazer Jogger – All-Terrain Dog Cart for Adventures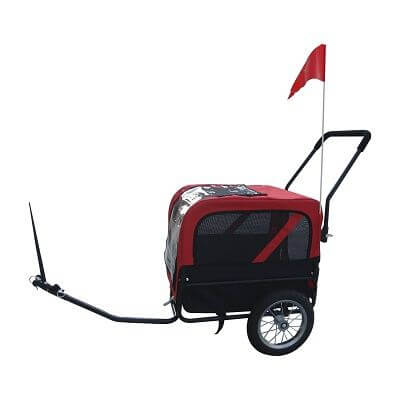 Introducing the Petique Trailblazer Jogger – the ultimate companion for your four-legged friend's outdoor escapades. This sturdy and versatile dog cart is designed to provide comfort, convenience, and safety, ensuring your pet's happiness and your peace of mind.

Key Features and Benefits:
Adventure Companion: Embark on off-road adventures and hiking trails with your furry companion using the Petique Trailblazer Jogger. Explore the great outdoors together, creating lasting memories.
360-Degree Ventilation: Keep your pet comfortable and content with the 360-degree well-ventilated mesh windows. The breeze flows freely, allowing your pet to enjoy the surroundings while feeling the gentle touch of the wind.
Multi-Entry Design: With three entry points – front, back, and top – your pet can easily hop in and out, enhancing their sense of security and freedom. The spacious interior ensures they have plenty of room to relax during your outings.
Convenient Storage: The jogger boasts large pockets to accommodate your essentials – cell phones, water bottles, and snacks – allowing you to have everything you need within arm's reach while on the go.
All-Terrain Performance: Equipped with large removable bike tires, the Trailblazer Jogger excels in shock absorption and traction, making it suitable for various terrains. The front swivel wheel enhances maneuverability, and the included tire pump ensures you're always ready for an adventure.
Safety First: Prioritizing your pet's safety, the jogger features reflective lining and rear reflectors, enhancing visibility during low-light conditions. Three adjustable leashes keep your pet secure, preventing any unexpected excursions.
Easy to Fold and Store: The jogger's one-hand fold handle with EVA foam grip ensures effortless storage and portability. The removable reflective fabric and pee pad simplify cleaning, making maintenance a breeze.
Specifications:
Suitable for: Small to medium-sized dogs
Maximum Weight Capacity: 60 lbs
Ideal for: Off-road adventures, hiking trails, bike rides
Petique All Terrain Jogger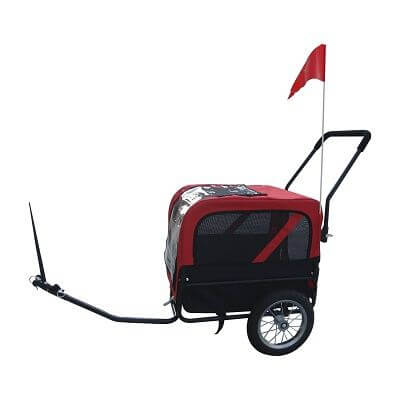 Experience the Petique All Terrain Jogger in the vibrant "Blazin' Berry" design – the perfect companion for every stage of your pet's life. With its innovative features and thoughtful design, this pet stroller ensures comfort, convenience, and safety for both you and your beloved furry friend.


Key Features and Benefits:
Adventurous Outings: Take your pet on unforgettable adventures with the Petique All Terrain Jogger. Its sturdy construction and shock-absorbing capabilities allow you to explore various terrains without compromising comfort.
Customizable Comfort: The adjustable handle with EVA foam grip offers multiple positions, ensuring your comfort during every stroll. Experience an ergonomic design that caters to your needs.
Effortless Braking: Navigate with confidence using the one-step dual wheel braking system. Securely stop the jogger whenever needed, providing you with full control and peace of mind.
Enhanced Shock Absorption: The large bike tires are designed to absorb shocks and provide exceptional traction. Your pet will experience a smooth and comfortable ride, no matter the surface.
Travel-Friendly Design: Fold the jogger flat with ease for hassle-free travel and storage. Whether you're headed on a road trip or simply storing it at home, this feature ensures convenience.
Ample Storage: Two large pockets are built into the jogger, offering ample space for essentials like your cellphone, water bottles, snacks, and more. Keep your necessities close at hand.
Durable and Washable: Crafted with durable PVC mesh, the jogger ensures longevity and breathability. The removable fabric makes cleaning a breeze, maintaining a fresh and clean environment for your pet.
Generous Weight Capacity: Designed to accommodate pets up to 60 lbs (30 kgs), the jogger provides a secure and comfortable space for pets of various sizes.
Inclusive Accessories: The jogger comes complete with a tire pump, ensuring you're always prepared for your adventures. Additionally, consider the optional bike adapter or rain cover (sold separately) for enhanced functionality.
Specifications:
Age Range: All Stages
Weight Capacity: Up to 60 lbs (30 kgs)
Optional Accessories: Bike Adapter, Rain Cover (Sold separately)
Carlson All-Terrain Pet Stroller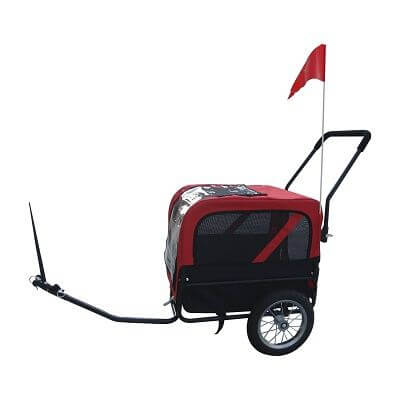 Discover the ultimate blend of safety, comfort, and style with the Carlson All-Terrain Pet Stroller. Engineered with your pet's well-being in mind, this stroller offers a secure and cozy environment while ensuring ease of use and effortless travel.


Key Features and Benefits:
Breathable Mesh Panels: Experience constant ventilation and fresh air for your furry companion. Large mesh panels allow optimal airflow, guaranteeing your pet's comfort during every outing.
Ample Shade: The combination of an umbrella and mesh canopy offers comprehensive coverage, shielding your pet from the sun's rays and providing a cool, shaded retreat.
Smooth and Gentle Ride: Soft wheels and a 360-degree front wheel swivel enable effortless maneuverability, ensuring a smooth and gentle ride for your precious pet. Every stroll becomes a delightful experience.
Quick Setup and Fold-down: With hassle-free setup and fold-down mechanisms, the Carlson Pet Stroller makes travel and storage a breeze. Spend more time enjoying walks and less time on preparation.
Safety First: The fully zippered canopy guarantees your pet's security, while the rear braking system adds an extra layer of safety. Reflective trim enhances visibility during low-light situations, ensuring peace of mind.
Generous Weight Limit: Designed for small to medium-sized pets, this stroller has a weight limit of 30 pounds, accommodating a wide range of furry friends.
Gen7Pets Regal Plus Pet Stroller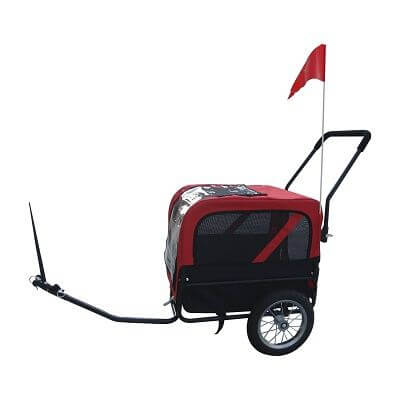 Elevate your pet's outings with the Gen7Pets Regal Plus Pet Stroller – a perfect blend of mobility, style, and comfort. This pet stroller offers your furry friend a smooth and enjoyable ride, while providing you with convenience and ease of use.



Key Features and Benefits:
Unparalleled Mobility and Style: The Regal Plus Pet Stroller strikes the ideal balance between mobility and style. Your pet will relish the comfortable, smooth ride, and you'll appreciate the fashionable design.
360-Degree Swivel Wheel: The front convertible wheel offers a full 360-degree swivel, allowing for effortless maneuverability. It can also lock for a stable on-the-go lifestyle, ensuring a secure ride for your pet.
Smart-Canopy Design: The Smart-Canopy cleverly folds under the canopy hood, avoiding any cramping of your pet's space during leisurely strolls. Your pet can enjoy an unobstructed view while staying protected from the elements.
Smart-Reach Handle: The Smart-Reach handle provides freedom of motion and ample space, enabling you to walk at any pace or stride comfortably.
Generous Storage: The Smart-Basket underneath the pet compartment offers convenient storage for your belongings. With rear zipper access, you can easily reach your water bottle, treats, keys, and dog toys while on the move.
Comfort for Both Pet and Owner: Designed for pets up to 25 pounds, the Regal Plus Pet Stroller boasts a roomy riding area and a smooth ride. Your pet can relax, nap, or enjoy the sights from the comfort of their own space. Owners will appreciate the added storage for essentials.
YITAHOME 3-in-1 Pet All-terrain Stroller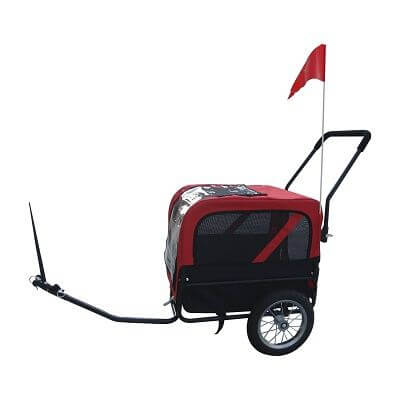 Introducing the YITAHOME 3-in-1 Pet all-terrain Stroller, the ultimate solution for comfortable and safe travel with your furry friend. Designed with innovation and functionality in mind, this dog stroller offers a seamless experience for both pet and owner.
Key Features and Benefits:
Spacious Comfort: The interior dimensions of the 3-in-1 pet stroller measure 70cm (27.6 inches) in length, 38cm (15 inches) in width, and 52cm (20.5 inches) in height (with canopy). With a maximum weight capacity of 48.5lbs, your pet can enjoy a secure and comfortable travel experience.
Shock-Absorbing Design: Equipped with four thick springs (two on the front wheels and two on the main body), the stroller reduces impact for your pet, ensuring a smoother ride. Adjustable handles and a one-foot braking system enhance convenience. A removable non-slip mat and safety ropes are included for added comfort and safety.
Innovative Snap Design: Say goodbye to zippers! The 3-in-1 dog stroller features a snap design that opens easily without risking your pet's fur. The combination of a durable aluminum frame, 600D Oxford cloth, and breathable mesh windows improves ventilation and visibility, allowing easy interaction with your pet.
Enhanced Maneuverability: Stand out with the 3-in-1 pet stroller's unique design, featuring 7-inch front wheels and 9-inch rear wheels. The front wheels swivel 360°, while the rear bar includes a brake pedal for improved safety and comfort. Enjoy a smoother ride on all surfaces, thanks to greater frame support.
Convenient Features: Lightweight and easy to fold, the dog stroller with rubber wheels is perfect for your on-the-go lifestyle. Additional features include cup holders, a storage basket, and a mummy bag for easy access to your essentials. The foldable design ensures effortless storage and transportation.
Maintaining and Cleaning Your Dog Stroller
To ensure your stroller's longevity:
Regular Cleaning: Wipe down the stroller after each use to remove dirt, fur, and debris.
Inspect for Wear: Check the wheels, brakes, and frame regularly for signs of wear or damage.
Lubrication: Keep the wheels well-lubricated for smooth operation.
Addressing Common Concerns About Dog Strollers
1. Are Dog Strollers Only for Small Dogs?
While many strollers cater to small and medium-sized dogs, there are options available for larger breeds as well.
2. Will My Dog Like the Stroller?
Introduce the stroller gradually and positively, using treats and praise to help your dog associate it with enjoyable experiences.
3. Can I Use a Stroller for Jogging?
Some all-terrain strollers are designed for jogging, featuring durable wheels and enhanced stability. However, always check the manufacturer's guidelines before jogging with your dog.
4. Can I Fold the Stroller Easily?
Most modern strollers offer convenient folding mechanisms for easy storage and transportation.
Conclusion
All-terrain dog strollers open up a world of outdoor adventures for both you and your furry companion. These versatile and functional tools provide a safe, comfortable, and convenient way to include your dog in various activities while ensuring their comfort and security. With the right stroller, you can embark on new adventures and create lasting memories together.