Our dynamic listings for small dog bike trailers up to 89 lbs carrying capacity (which would also cope with many medium to heavy pets too of the right size). We will be regularly adding, removing and amending the products available on all pages as new items emerge, old items sell out and rankings alter over time. Be sure to check back from time to time to see what's changed!
Separate Dog Trailer and Stroller Designs
Max. Weight(s): 66-88lbs
Sizes:(interiors) 31.5″ x 22″ x 23.6″ – 28.3″ x 22.8″ x 20″
Materials:mesh on steel frame
A couple of neat, separate designs coupled with some nice features lead us to believe there may be some potential in these relative newbies. The only thing is we're not sure  one or either is a dedicated dog product to begin with – but maybe a child's? But as we've mentioned on our Child Bike Trailer page, many kids' trailers can be easily and cheaply converted to suit four-legged passengers in any case, and the reviews thus far from dog owners (worth reading) indicate that there's little or no work needed! Anyway, the trailer is built around a steel frame which sits upon 20" inflated back wheels and a 10" swivel wheel when a stroller version is purchased.  With the stroller, the rear wheels have suspension and a hand brake is included. Apart from this and the almost mandatory flag, another nice safety feature is a pair of battery powered safety lights, positioned front and rear, which improve on the included traditional reflectors, but working together to make the 'dog' trailer/stroller more visible than most. The front entrance is mainly mesh when closed and has an optional weather screen. And so it seems that this product(s) currently comes in a choice of two colors: black (trailer -pictured) and red (stroller). The product page is a little unclear as to what features you actually receive with each version so read carefully! It' early  days but these trailer and stroller designs are  obtaining some nice comments thus far and both trailer and stroller versions come in at very low prices!
Small Dog Trailer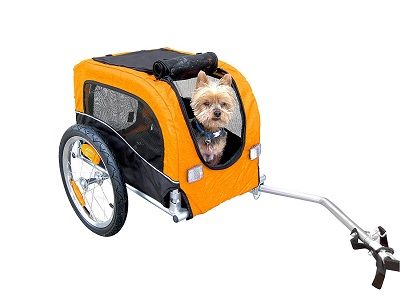 Max. Weight: 15-20lbs
Size:(interior) 21″ x 15″ x 14″
Materials:mesh on lightweight frame
This is the trailer-only version of one of Booyah's smaller products in their range. For a stroller-convertible version visit the 'Hybrid' pages. Anyway… This is definitely one for the little guys and girls out there, but Booyah certainly haven't skimped on any details for this diminutive trailer. It has a three-position sunroof – open, closed and mesh screen; 15.5" push-button, quick release wheels; a bike hitch and a removable interior cushion for added comfort. Also included, which are even more important than usual for such a small dog trailer, are lots of safety items: there are reflectors on the front and back of the cabin as well as reflecting side-strips; reflectors on the wheels and, of course, a safety flag. It's worth noting that, according to Booyah, this trailer has a max-weight capacity of 40 lbs, but they feel, purely from a dog-dimension perspective, that the probable maximum size for a pet that could fit inside the cabin would be more like 15-20 lbs. Reviews are fairly good at the time of writing.
Low-Priced Trailer with Free Carrier!
Max. Weight: 44lbs
Size:(external) 23.6″ x 19.7″ x 39.3″ (approx.)
Materials:600D Oxford cloth on steel frame
This smallish pet trailer is new to the market and follows a very typical design to others which have come before it. There's the fairly typical 600D Oxford cloth, mesh and steel frame which makes up the cabin which comprises of three doors (front, back and top); there's a safety buckle on the inside and reflectors and reflective strips on the exterior and a universal bike hitch included. As you may have already ascertained by the title of this overview, there are, however, a couple of things which make this trailer stand out a little from the crowd: the very reasonable price and a free pet carrier which may come in useful from time to time. We don't know how long this offer (or price) will last but it's certainly for real at the time of writing. Reviews are few as this time also but are predominantly good. And so if you happen to be looking for both an affordable doggy trailer and pet carrier this one's definitely worth checking out!
Blue Schwinn Rascal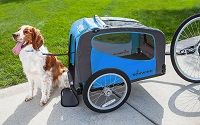 The same great trailer as listed below but this time in a brand new blue tone. The original has already received hundreds of great reviews and is one of the most popular trailers currently out on the market. So far, as you might expect, the new blue version is doing well also. If you like the design of this trailer and think it suitable for your dog, you now have a choice of color schemes to consider. The only difference between the two, apart from the color, seems to be a slightly higher price tag. Click the pic for the blue version.
Schwinn Rascal Trailer
Max. Weight: 50lbs
Size:(of whole) 31.75″ x 24.5″ x 19.5″
Materials:mesh on foldable frame

This is a nice and neat design from 'Schwinn' (a company established in 1895!) which comes with a comfortable non-slip liner which is also removable and washable. The brightly designed cabin sits upon quick-release 16" air-filled tires and includes an adjustable-length interior leash for safety. Entrances and exits are made via a rear door (as pictured) whilst the front end comprises of a 2-in-1 bug screen and weather shield – both of which can be left completely open if so desired. When not in use the whole trailer can be folded down neatly for easy transport and/or storage. Other little extras include a single, but strategically placed, reflector, a safety flag and a tow bar equipped with a universal bicycle coupler. The Schwinn sounds good; looks good and is very fairly priced. The reviews are predominantly good also and it looks like this attractive little trailer has a bright future! And, we are now pleased to say that the Schwinn Rascal dog bicycle trailer is now at the number one spot in our top ten trailer chart!
DoggyRide Mini Dog Trailers
Max. Weight: 55lbs
Size:(interior) 23″ x 15″ x 22″
Materials:600D nylon on powdered steel frame
Built with smaller dogs in mind the DoggyRide Mini is one of the most popular small dog bike trailers which is currently available in three colors (see below). Its diminutive size shouldn't lead one into thinking the design is any less detailed than trailers for larger dogs, however. It includes pretty much everything you could want in a trailer and, although compact, is a tough little number constructed with 600D Nylon, a powdered steel frame and UV resistant mesh. The 12.5" inch wheels are pull-release and the canopy of the trailer can be folded down for storage with the release of a single pin. The design also comes with a rain screen, a safety flag, an interior leash set, accessory pouches and a bicycle hitch. The DoggyRide is versatile too. It has a front and rear entrance/exit as well as a zipped sun roof if your pooch would like a 360 degree view of his or her progress! On top of this, an optional stroller conversion kit is available and, with the wheels removed, the design can function as a soft dog crate! The product meets or exceeds ASTM standards and both owners and their dogs love it! The DoggyRide Mini is by no means one of the cheaper dog trailers out on the market, but in our opinion it's certainly one of the best!
The DoggyRide Mini is also available in a choice of colors: the Spring Green and Gray (as listed above), the Dutch Orange and Gray, and the Rebel Red and Black as shown below. As they are listed on separate pages, click the links below for your preferred color scheme
Doggyhut Medium Bicycle Trailer
Max. Weight: 55lbs
Size:(interior) 27″ x 17″ x 20″
Materials:600D polyester on powder coated steel frame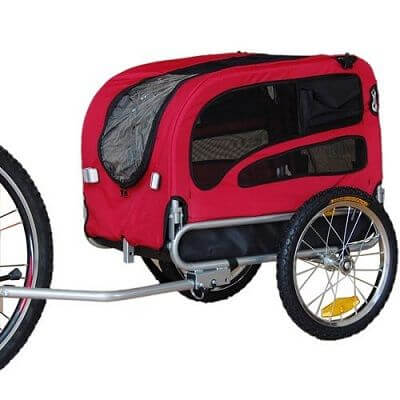 This is the medium-sized version of the Original Doggyhut bike trailer (the larger version can be found on the 'Large Dog trailer' page). Most of the great features the bigger trailer possesses are included on this model also. As you would expect the dimensions are just a little smaller and the maximum weight capacity is a little lower (and so is the price!). But apart from these expected differences the design is pretty much the same. A powder coated steel frame holds up a 600D polyester canopy which, with the non-slip floorboard, forms the cabin. Dogs enter through a zippered rear door and face towards (or out of) a dual purpose mesh and vinyl weather screen. For safety an adjustable leash is included as well as reflectors on and a flag. The cabin sits upon 16" pneumatic tires and is easy to assemble without tools, and folds flat for storage or transport. The Trailer also comes with a universal bike hitch. Just like its big brother, the medium Original Doggyhut Trailer is a popular buy and comes with predominantly great reviews!
Aosom Elite Dog Bike Trailer
Max. Weight: 66lbs
Size:(interior) 31″ x 22″ x 25″
Materials:polyester and mesh on steel frame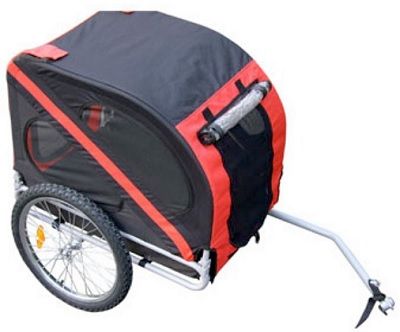 The Aosom has a nice compact design which folds down easily for transportation and storage. It boasts plenty of mesh on four sides for good ventilation, the front and back being zippered for entry and exit. Heavy-duty, water-resistant polyester makes up the rest of the canopy which rests upon a sturdy steel frame. Also included with the trailer is a clear rain cover for the front entrance, a bicycle hitch for connecting to the rear axle and a leash hook for the added safety of the passenger. Other little bonuses are a safety flag and quick release wheels. The Aosom Elite is a fairly priced trailer and is proving very popular with many great reviews! (it claims the best-selling status for one or two of its range of small dog bike trailers!) It's a basic but very effective, efficient design
Sepnin Small Dog Bike Trailers
Max. Weight: 66lbs
Size:(interior) 26.7″ x 20″ x 19″
Materials:mesh/vinyl on metal frame
This is a different kind of 2-in-1 trailer that converts to a dog crate if so desired. It does not come with the equipment required, front wheel and handlebar etc., to convert it into a pet stroller or jogger (the product page is a little misleading here. Check out our convertible stroller pages if you would like a stroller/jogger function included). This is just the trailer/crate only version. Now that's been said we can concentrate on the actual product… It's early days as far as reviews go but, at this moment in time, the few available are good – which is typical of Sepnin trailers. The cabin comes with three zippered openings and is availble in a choice of colors (at the time of writing: orange (pictured), blue and red) and sits upon a spring suspension mechanism – which is a nice little bonus! It also comes with a bike hitch, a fabric-covered PE board floor, weather shield and safety leash with an O-ring attachment. The trailer can support up to 66lbs but be aware that the cabin size is small and so best to measure your dog's dimensions, as well as weight, to see if he or she will fit comfortably! Overall, we feel this is a fair product at a fair price.
Kinbor Pet Bicycle Trailer
Max. Weight: 66lbs
Size:(interior) 31.5″ x 22″ x 23.5″
Materials:mesh on steel frame
The Kinbor trailer is one of many that are trying, we suspect, to emulate the success of the 'Schwinn Rascal Pet Trailer' (also found on this page) by offering a low-priced but sturdy solution to smaller dog trailer designs. Being new to the marketplace, it's not certain whether they will succeed with this product but it at least possesses all the basics needed to get out and about with your furry friend.  The collapsible steel frame sits upon 16" wheels and the cabin features front and back openings with enough mesh for good visibility and ventilation. Also included are a weather shield; front and rear reflectors and a bike hitch. The trailer also comes with a safety flag and an internal leash hook. The basic extras included are, obviously, a good thing but it's too early to say if that's enough to compete against the already popular designs elsewhere on our pages. So far things look promising with a couple of good reviews. We will wait and see if things continue in this positive way.
Burley Tail Wagon
Max. Weight: 75lbs
Size:(interior) 23″ x 19″ x 32.5″
Materials:mesh on aluminum frame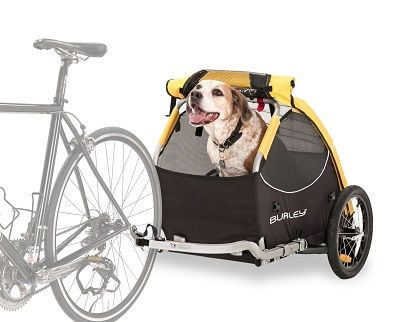 Burley are one of the real big hitters in the dog trailer world. Their products are towards the expensive end of the price scale but quality tends to cost! The Tail Wagon comes with 16" quick release alloy wheels, a parking break, and a removable and washable floor and lots more! Also included are plenty of heavy duty mesh windows for good airflow, a zipped vinyl weather cover, pockets, leash hoops, reflectors and flag holders! The trailer design also comes with a removable handlebar which is included in case you should decide to later purchase one of their stroller conversion kits. The Tail Wagon folds down quickly for storage and transport thanks to a simple and quick fold-down system making the design even more versatile. There are also warranties on the cover and plastic components (one and three years respectively). Overwhelmingly great reviews have come from the previous buyers, and if you're interested in becoming a future one be sure to follow the link and watch the product page video for more information.
Rage Pull Behind Trailer
Max. Weight: 85lbs
Size:(interior) 29″ x 20″ x 24.5″
Materials:mesh on tubular steel frame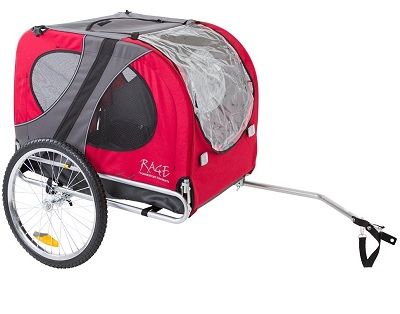 This Rage trailer for dogs looks as though it has borrowed some of its looks from the 'DoggyRide Novel' range on the next page. This might lead to some cynicism but, in fairness, the Rage, apart from a little plagiarism, stands up well in its own right. The tubular steel frame sits upon 20" pneumatic wheels and holds up the water resistant canopy and weather shield. Plenty of mesh is available for good air circulation/visibility and front and rear doors permit entry/exit. The Rage also includes reflectors and a universal hitch which works with 'most' 24" and 28" bikes. The whole design also collapses neatly down for storage or transport. Although not as polished as the Novel range, the Rage does come in at a far cheaper price – and the reviews are equally as good! And so if you like the general look of the Novel but don't want to pay that much to obtain it then the Rage is an obvious candidate for consideration.
Wike Wagalong Pet Trailer
Max. Weight: under 30lbs
Size:(interior) 24″ x 19″ x 25″
Materials:mesh on lightweight aluminum frame
New sellers on the marketplace, Wike, have recently listed several rather avant-garde trailers and strollers for both pets and children. One of these is the 'Wagalong' which, as you can see, has an interesting look about it which is far from typical! The trailer is based around an aluminum frame which is rustproof and, of course, very light. Its side windows are vinyl but there's enough mesh at the rear of the cabin and this, along with the front opening (with optional bug screen and weather shield), should ensure good airflow. Inside the cabin there is a restraining safety leash which is adjustable and a padded cushion for increased comfort for the passenger. The cabin sits upon 20″ spoked alloy wheels. Also included with the trailer are rear reflectors two extra bike hitches. The Wagalong is built with smaller pets in mind and so be sure to check the dimensions and weight capacity of the trailer (above) as well as those of your furry friend. As mentioned before, Wike trailers are new to the marketplace and so there's little or no feedback about them just yet. They certainly aren't the cheapest dog bicycle trailers available and so we shall have to wait and see if people think Wike's designs possess quality as well as quirkiness!
M-Wave Pet N' Go
Max. Weight: 66lbs
Size:(interior) 17″ x 27″ x 20″
Materials:mesh on lightweight frame
A bright and cheerful cabin design which sits upon 16" quick-release wheels. It has front and rear entrances/exits, the former coming complete with a weather shield. This trailer also comes with a fold-away tow-bar, a safety flag and an internal safety leash. It's one of the more handsome designs out there but it's a little over-priced we feel. Even so it may appeal to some and the bright yellow color would certainly stand out when out and about with your four-legged friend! As yet there are no reviews and so a default average score applies. As soon as we know more we will, of course, pass it on.
VidaXL Trailer for Dogs
Max. Weight: 88lbs
Size:(interior) 29.5″ x 21.7″ x 25.6″
Materials:steel frame with mesh
The first thing to say about this trailer from VidaXL is that it's currently available at a good low cost and, with free delivery also included – it would be difficult to find a more reasonably priced large-sized trailer! The cabin is fairly attractive also with a bright orange and gray color scheme with UV resistance that wraps itself round a sturdy steel frame. Along with the usual safety extras such as reflectors and a flag, the design also includes other safety features such as a reinforced floor and a rotating tow bar join which will ensure that if the bike falls over, the trailer will not! At the time of writing, however, the VidaXL is new on the market and there are no reviews in. The price and design do make this product look a very promising prospect, though, but more time needs to pass before we can say for certain how good it really is. Fingers crossed!