Best Dog Trailer 2-in-1's for Larger Pets
A page of convertible dog trailers built with heavier loads in mind – 70 lbs and above. Be sure of the interior dimensions of these cabins as well as their weight bearing capacity to find the one best suited to your large faithful friend.
Hercules Dog Stroller
Max. Weight: 110lbs
Size: (interior) 23.5″ x 31″ x 27″
Materials: tubular aluminum frame with mesh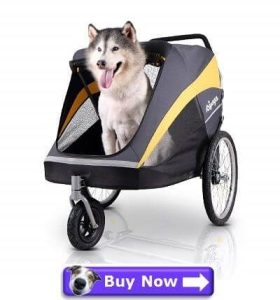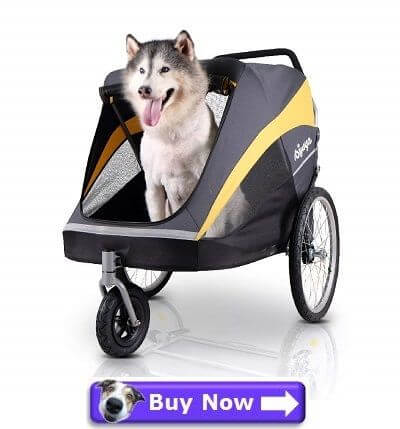 This is a stroller only with no options available to convert into a trailer. We've included it anyway, however, because it's amazing strength and size. The aptly named 'Hercules' stroller can fit most large dogs comfortably or several small ones if you have a bit of a pack! Built around an aircraft-grade aluminum tube frame, the chassis can support up to 110lbs of canine! Its quick-release alloy wheels have pneumatic tyres for a smoother ride whilst a front 360 degree swivel wheel and adjustable handlebar (3 heights) make the owner's job that much easier. The Hercules has front and rear zippered mesh openings for good air circulation and access; a storage pocket for doggy accessories and reflectors on the rear wheels. Despite its size the stroller only weighs in at 33lbs and can be quickly folded down to a very flat size for storage and transport. Reviews are few at the moment but excellent. The price isn't the cheapest but you do get a lot of stroller for your money!
Convertible Dog Trailer
Max. Weight: 75lbs
Size: (interior) 30″ x 25″ x 20″ (approx.)
Materials: metal frame with mesh
A neat-looking and refreshingly different design from Petzip for this 2 in 1 trailer.  The insdie of the cabin comes with a thick pad which is both removable and washable and two attachments for securing a dog (or dogs) to. There's also plenty of mesh ventilation. Unusually, This Petzip trailer doesn't seem to come with a weather screen or a full complement of reflectors. This is fine for dry daytime travel but it's worth noting for those on the lookout for a vehicle for all-weather use or evenings. On the plus side it does come with pneumatic tires for a more comfortable ride, a universal bike hitch and a storage pocket. A parking brake is also included along with a handlebar and cup holder for use in stroller mode which employs a double front wheel. There are no customer reviews at the time of writing and so it's difficult to assess any further. But we would say that we feel the price is a little on the high side at this time.
Tenive Combined Trailer and Stroller
Max. Weight: 88lbs
Size: (interior) 33″ x 22″ x 21″ (approx.)
Materials: steel frame with 600D Oxford Nylon

This 'Tenive' hybrid trailer/stroller is very similar indeed to the 'Aosom Elite II' listed further down this page. Its price and interior dimensions are a little different, however, and so we thought we'd include it without fear of an exact repetition. The cabin (with spring suspension) sits upon 20" wheels and a 10" swivel wheel when used as a stroller. It is built around a steel frame which holds up a 600D Oxford Nylon canopy (that is PU waterproof coated) and plenty of mesh. Three openings are possible with a front and back door and a sunroof. Reflective trims, reflectors and a safety flag highlight the vehicle when out on the road and a zippered plastic screen is available for any inclement weather you and your pet may face! The tow bar folds away neatly underneath the cabin when in stroller mode and a parking brake on the handlebar is a useful extra. Reviews are good at this time with just a couple of concerns over the poor assembly instructions.
Booyah Convertible Dog Bicycle Trailer
Max. Weight: 88lbs
Size: (interior) 34″ x 24″ x 21″
Materials: mesh and aluminum wheels
This convertible dog trailer is available in a couple of bright colors: Blue and, when in stock, Neon Green (pictured). It comes with a good collection of features which you would expect from a decent convertible pet trailer. When in stroller mode, the front wheel can be locked or left free to swivel, and the handlebar is adjustable and has a handbrake mounted upon it.  The quick-release rear aluminum wheels (12″ front and 20″ rears with suspension) are set back on the cabin for better balance and the trailer tow bar sits folded away underneath. The cabin itself has zippered front and rear entrances/exits as well as a Velcro sealed sunroof and a front-facing weather screen. It also comes with reflectors, storage pockets and a removable cushion and leash. Booyah do tend to make good quality trailers and strollers (the similar but smaller version of this Booyah (see Page 1) has also achieved a high rating!). This is certainly one of the best combo dog trailers available!
Sepnin Stroller and Trailer
Max. Weight: 88lbs
Size: (interior) 33.9″ x 22.1″ x 26″
Materials: mesh and steel frame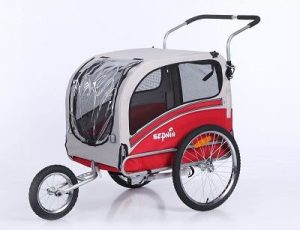 This 'Sepnin' is a solid, chunky, steel-framed stroller/trailer that is certainly not in the 'lightweight' category! The weight may be a problem for some but does at least show how solidly built the product is. The wheels are a healthy size: 20" for the rears and 12" for the front. Unfortunately, however, the front wheel doesn't swivel and this, coupled with the weight, may make tight cornering when in stroller mode. On the other hand, if the trailer aspect is more what you're looking at, those large rear wheels make turning easy! The Sepnin has good airflow curtesy of large mesh windows and a front and back entrance, the former of which comes with a plastic weather screen. It also comes with an 11mm hole hitch – which is compatible with most 24" to 28" bikes, an anti-slip floor with PE board, reflectors, a safety flag and a safety leash. There is also a choice of colors! The reviews are good thus far but we think it makes for a better trailer than stroller!
Aosom Elite II Dog Trailer / Stroller / Jogger
Max. Weight: 88lbs
Size: (interior) 30.5″ x 23.5″ x 21.5″
Materials: steel frame with mesh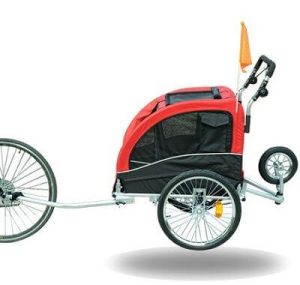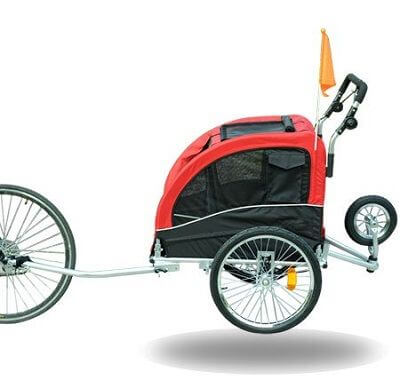 Currently available in a choice of three color schemes (black and red (pictured), black and white and blue and white) this convertible dog bicycle trailer / stroller has received a mixed reaction from previous customers. Most are very good but some reviews do highlight areas of concern and are worth reading. Looking purely at the product itself, the Aosom comes with an adjustable handlebar, a front wheel (10") which can be set to swivel or fixed for jogging or, of course, taken out of the way for use as a dog trailer. It has a lightweight steel frame that is supported by 20" wheels and includes suspension. The cabin has three possible entrances (front, back and top) and includes storage pockets, a safety leash and a side sleeve for holding a tall 6.5' flag. Also included is a front weather shield, an Aosom type-A bike hitch and plenty of mesh. It all sounds good and, for many, it is! But, as mentioned earlier, there are some concerns from a few quarters, questioning the product's durability and assembly instructions among other issues. The Elite II may be fine for casual use on well-paved roads but when used heavily laden, especially on rough ground, it might not be up to the task.
Doggyhut Large Bike Trailer w/ Jogger Kit
Max. Weight: 90lbs
Size: (interior) 34″ x 22.5″ x 26″ (approx.)
Materials: steel frame with 600D Polyester
The Doggyhut trailer remains popular across its range of sizes and combinations. (See the other pages on this site for variations on this product.) In this case the large trailer has been teamed up with a jogger kit to offer that 2-in-1 capability for heavier dogs (up to 90lbs). The trailer itself, as mentioned in our overviews of its other sizes and styles, is a solid product. The cabin is constructed from a powder-coated steel frame and is covered with a hardy 600D polyester and mesh material. An anti-slip floorboard completes the enclosure and inside a safety leash is included whilst reflectors, front and back, adorn the outside along with a flag. A universal hitch is also included in with the price which should allow connection to most bikes. The Doggyhut is a robust product and is sold in combination with the stroller parts at a reasonable price. It does lack suspension, however, and only has a fixed wheel at the front when being used as a jogger or stroller. These things should be taken in mind before deciding that this is the right vehicle for you and your pet! The reviews are extremely good though and, as mentioned before, this particular Doggyhut combination is being received as well as the others!
Extra Large Hybrid Stroller
Max. Weight: 110lbs
Size: (interior) 32″ x 22″ x 23″
Materials: mesh on lightweight frame
An uncharacteristically low score so far for this 'Booyah' stroller and trailer. It is early days with just a handful of reviews but it's certainly not a great start! The design, which is biased towards use as a stroller or jogger, we feel, rather than a trailer, sits upon large 20" rear wheels and a 12" lockable front wheel with a padded handlebar leaning up and out from the rear of the canopy. Obviously, the front wheel can be replaced by the included tow arm and hitch for use as a trailer. A rudimentary manual parking brake is positioned at the side of the cabin and a restraining leash included on the inside. Large front and rear zippered entrances/exits and substantial mesh side-windows provide plenty of ventilation and dual weather screens can be employed depending on the weather. At the time of writing this XL hybrid stroller/trailer is available in a couple of colors: green (pictured) and blue. The large weight capacity is definitely a bonus for the heavyweight pets out there but, as Booyah themselves will warn you, weight is only one half of the equation: compare the inner dimensions to those of your dog whilst sitting or lying down also! As mentioned before, the reviews thus far are hovering around average with concerns over quality and assembly. Only time will tell if this is a product definitely worthy of investment in!
Rage 2-in-1 Pet Bicycle Trailer
Max. Weight: 130lbs (85lbs as stroller)
Size: (interior) 29.25″ x 19.5″ x 24″
Materials: mesh on lightweight frame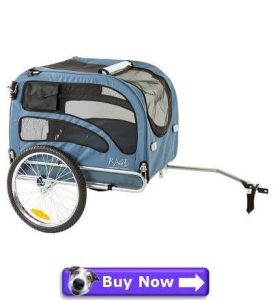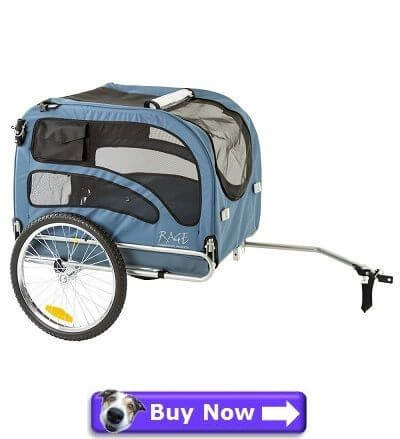 This different design to the 'Rage' 2-in-1 trailer (featured further down this page) features 20" rear wheels and a 12" front wheel. The cabin boasts plenty of mesh for good air circulation/visibilty and comes with reflectors, a safety flag and, the almost obligatory, roll down, plastic weather cover. Entrance/exit is made via a front or rear door. Also included are a universal bike hitch (24" to 28" bikes) and removable handlebar. The product converts between trailer and stroller easily and can be folded down when not in use for storage. On the face of it this Rage 2-in-1 doesn't seem to have anything remarkable going for it, but the fact is that it's a solid product that does it job(s) well! It may not be the most hi-tech option on the market or have the most handsome design – but the reviews make very attractive reading!
Rage 2-in-1
Max. Weight: 135lbs (85lbs as stroller)
Size: (interior) 23″ x 14″ x 19″
Materials: mesh and steel frame
The Rage 2-in-1 is built around a reinforced steel frame which gives it good strength. Fair-sized 16" rear wheels cope well with most reasonable terrains and a 12" front swivel wheel helps out when in stroller mode. The swivel wheel and a nice padded handlebar are, of course, removable when it's time for the product to be used as a trailer. The 2-in-1 comes with a common collection of extras such as a front weather shield, reflectors, leash-restraint loops and plenty of mesh vents for good ventilation. With the wheels removed the cabin can be folded down to a good size for transport or storage. The 2-in-1 may not have all the bells and whistles of some of the other stroller/trailers out on the market, but it's a solid product and one that has been very well received thus far!
Peach Tree 2-in-1 Dog Bicycle Trailer?
Max. Weight: 88lbs
Size: (interior) 21.6″ x 22.8″ x 28.3″ (approx.)
Materials: steel frame with vinyl and mesh

A very bright design coupled with some nice features lead us to believe there may be some potential in this newbie. The only thing is we're not convinced this is a dedicated dog bicycle trailer to begin with! The rather obvious child harnesses in the product pictures gave us that idea! But all is not lost because, as we've mentioned on our Child Bike Trailer page, many kids' trailers can be easily and cheaply converted to suit four-legged passengers! Anyway, the trailer is built around a steel frame which sits upon 20" inflated back wheels and a 10" swivel wheel when in stroller mode. The rear wheels have suspension and a hand brake is pictured as being included but not stated. Apart from this and the almost mandatory flag, another nice safety feature is a pair of battery powered safety lights, positioned front and rear, which improve on the included traditional reflectors, but working together with them to make the 'dog' trailer more visible than most. The front entrance is mainly mesh when closed and has an optional weather screen. The side windows, however, are just vinyl. The trailer currently comes in a choice of two colors: green (pictured) and red. It's too early to guess how the Peach Tree trailer is going to do – especially because of how it's been titled! We shall see…
Lucky Dog Deluxe 2-in-1
Max. Weight: 88lbs
Size: (of whole) 33″ x 29″ x 31.2″ approx.
Materials: mesh and non-slip floor
Lucky Dog is a company that is well known for their canine oriented products, not least for their outdoor pens and kennels. Their items tend to be well-received and so it's nice to see them entering the dog trailer niche with all their experience in safe and sound doggy domains! Their Deluxe trailer/stroller combo fits to most 24" and 28" bike frames via a universal hitch. The cabin includes a safety leash and non-slip floor within and rear reflectors and a safety flag outside. Nice large front and rear doors (18" x 19") allow for good visibility as well as easier entrances and exits for dogs from small to medium-sized, and both come with optional zippered weather screens. For stroller mode, the tow bar is retracted and replaced by a neat-looking projected wheel-arm which holds in place a 360 degree swivel wheel.
We'd suggest the triangular, wedge-shaped design of the cabin, whilst being attractive, should be taken into consideration alongside your pet's size before ordering. The Lucky Dog Deluxe is new on the marketplace but we're hoping the company's pedigree will hold it in good stead. We await the first, hopefully positive, reviews!
Croozer 2(or 3?)-in-1
Max. Weight: 88lbs
Size: (interior) 25.25″ x 17.75″ x 20″ (Approx.)
Materials: steel frame with mesh
Even though it's described as a 2-in-1 stroller / trailer this 'Croozer' can also act as a soft dog crate for those well-behaved pooches out there – so really a 3-in-1 product! Anyway, no matter how many ways it can be employed, it's certainly a sturdy, no-nonsense-looking piece of kit. A durable floor-pan provides a solid base for your pet to ride on and a removable padded mat provides it with comfort as it does so. D-rings are incorporated to leash your friend to and front and rear reflectors add to the safety side of things. A large rear door allows admission and this, a long with large mesh windows, provides ventilation. A handy storage pocket is also included at the front of the cabin and tie-downs are available at the base for safer transport when used as a crate. The makers boast that this Croozer is easy to clean, easy to convert between modes and easy to collapse and store. As you might expect, however, for all of the above the price is at the high end of the spectrum. This may be why there are no buyer reviews at this time!
VidaXL Combined Trailer and Jogger
Max. Weight: 88lbs
Size: (interior) 23″ x 17″ x 20″ (approx.)
Materials:  tubular steel frame with mesh

This compact trailer (which looks very similar to a lower weight capacity Mdog2 product on our small hybrid trailer page) converts to a jogger quickly and without the use of tools. The cabin is constructed from a steel tube frame, covered with a waterproof canopy, which has rear and front openings. The front door has the almost obligatory weather shield and there is plenty of mesh all round for good ventilation. This VidaXL also comes with a moisture-resistant, non-slip base, a safety flag and an internal hook for attaching a suitable leash to. The cabin sits upon 12" quick release pneumatic wheels and a smaller front wheel when used as a dog jogger. The trailer arm, it is boasted, is compatible with 'all' (we'd say most!) bike models and features a 'security-rotation coupling' which should keep the trailer upright should the bicycle ever fall over. VidaXL trailers are new to the marketplace and, as such, little is known about their performance at this time. One thing's for sure though – they are very affordable and this particular model is one of the cheapest dog trailers and/or joggers available!