Dog Trailers for Larger Canine Loads
Large dog bike trailers for a carrying capacity of at least 90 lbs. Maximum Weight is just one aspect to bear in mind, however. Be sure to check the interior sizes of the dog trailer cabins also and how they compare with your hound's size.
Solvit HoundAbout Pet Trailer
Max. Weight: 50 To 110 lbs
Size: (interior) 26″ x 17″ x 20″ To 33″ x 22″ x 26″
Materials: 600D polyester on steel or aluminum frame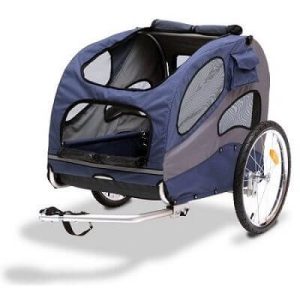 One of the many great things about the Solvit HoundAbout Pet Trailer is the choice for the cabin's frame. Not only is there an option for its size (color changes between sizes), but it's also up to you to decide whether you'd prefer an aluminum or steel one! (The aluminum is lighter but more expensive than the steel – but both are strong enough for the job!) The fabric for the cabin is also tough and made with a 600D polyester material. It houses mesh windows, a rear entrance and a typical 2-in-1 vinyl/mesh zippered windscreen. The design also comes with a universal bicycle hitch and a waterproof floorboard and can be folded easily for storage or transportation. The HoundAbout may not come with many of the added extras other dog trailers do but, even so, it's proving very popular at this time. Obviously, having both a smaller and larger size available makes it more compatible across the dog-size spectrum and, therefore, gains it more happy passengers!
Comfy Dog Bicycle trailer
Max. Weight: 90lbs
Size: (interior) 29.5″ x 21.7″ x 25.6″
Materials: 600D polyester with mesh
Apart from a few aesthetic design changes, this dog trailer from Mdog is basically the same as another model of theirs further down this page. The cabin is built from a waterproof, 600D polyester material which surrounds plenty of mesh windows as well as two entrances plus a sunroof. The front entrance comes with a PVC weather screen and all ways in (and out) are zippered. The cabin sits upon 20" quick-release wheels and folds down easily when not in use. Also included are reflectors, a bike hitch, a safety flag and an internal attachment for a leash. There are few customer reviews at this time but the ones that have been written are positive. As the basic design is, more or less, the same as the other Mdog model on this page, we think it's worth looking at those reviews also to get a better overall picture.
Original Doggyhut Large Bike Trailer
Max. Weight: 90lbs
Size: (interior) 33″ x 22″ x 26″
Materials: 600D polyester on powder coated aluminum frame
(Large version currently unavailable. Link is to medium)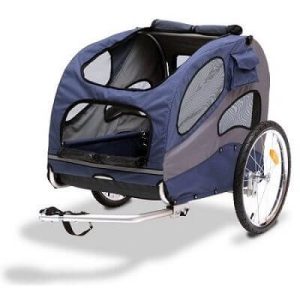 The Doggyhut is a neat-looking, almost box-shaped, large dog bike trailer. A 600D waterproof polyester canopy and anti-slip rubber base is held firmly in place by a strong powder-coated steel frame. A rear zipped door allows for easy entry/exit whilst the front door has a zippered dual screen of mesh and vinyl for guarding against the weather. There are also plenty of other mesh openings about the rest of the cabin to provide excellent ventilation. Good 20" spoked wheels with pneumatic tyres are widely set to support the structure well and give great stability. Included for extra safety are reflectors, a flag and a safety leash. A universal bicycle hitch also comes with the trailer. The Doggyhut is a great choice for those with larger animals and many very good reviews support this conclusion. Definitely one to consider! (This links to both large and medium-sized options.)
Mdog Pet Trailer
Max. Weight: 90lbs
Size: (interior) 29.5″ x 21.7″ x 25.6″
Materials: 600D polyester with mesh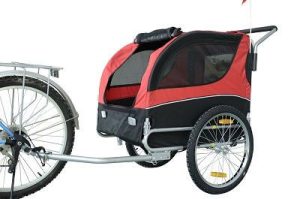 Mdog2 are well known for creating a wide range of canine-related products including several types of trailers and strollers. This particular product is from their 'Comfy' range and it includes all the basics you would expect to come with a reasonable trailer. A 600D polyester and mesh cabin sits on top of a solid PE floor which is in turn supported by 20" air-filled wheels. The cabin has three zippered openings: front, back and sunroof, the former of which includes a weather screen. Other included features are quick-release wheels, a leash attachment, a safety flag, reflectors and a bike hitch. Like almost all dog trailers, this design can be quickly and easily folded down for storage. This Mdog has just a handful of reviews at the time of writing but most are fairly positive. (check out the very similar Mdog design above for a better insight and, possibly, a better price!)
DoggyRide Novel 10th Anniversary Dog Trailer
Max. Weight: 110lbs
Size: (interior) 31.5″ x 21″ x 25.5″
Materials: black anti-rust aluminum alloy frame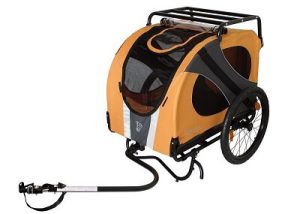 One of the neatest-looking dog trailers out on the market with very high specs. As a result, however, it isn't cheap – but, on the other hand, it is a fantastic piece of kit! The frame is lightweight and constructed from an anti-rust aluminum alloy. A cargo rack which sits at the top and to the rear of the cabin is similarly strongly constructed. A kickstand steadies the trailer for large dogs to enter safely and a 2" thick foam and memory foam luxury mat awaits their arrival inside! Included optional rear legs can be added to stabilize the canopy for use as a dog crate or tent and a stroller kit can be bought separately for the design if so desired. Other extras included are a padded front headrest, a multi-purpose windscreen, quick-release wheels with electrolyzed black stainless steel hubs and spokes and a large rear pouch and water bottle pocket. This is a very versatile, well-constructed dog bicycle trailer with some luxurious extras – and we think it looks great! But it does come, unfortunately, with a hefty price tag!
DoggyRide Novel Trailer
Max. Weight: 110lbs
Size: (interior) 31.5″ x 21″ x 25.5″
Materials: mesh on aluminum alloy frame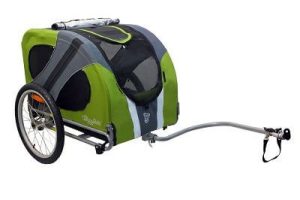 If you scroll up and down our pages you will notice that 'DoggyRide' products appear quite often. This is no coincidence as this site's aim is to feature the highest rated large dog bicycle trailers and Doggyride repeatedly fit that criterion! The 'Novel' trailer has been around for some time (see the 10 th Anniversary version above) and has maintained its popularity due to its detail and design. This Novel (this is an upgraded design from the original) is based around a light aluminum alloy frame which weighs just 30lbs. It has quick release wheels which have stainless steel spokes and hubs, a padded headrest to keep your faithful friend comfortable as well zip-on side rain screens. Other extras include reflective striping, a back pouch and a water bottle pocket. The Novel is available in two colors at this time: Outdoors Green/Gray  (pictured) and Urban Red and Black. Great product – great reviews!
Kasko Wagon
Max. Weight: Up to 150 lbs
Size: (interior) 24″ x 16″ x 16″ To 35″ x 24″ x 23″
Materials: polyester on lightweight frame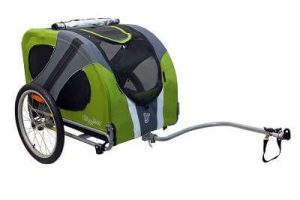 The 'Kasko Wagon' from PetEgo is currently available in three sizes. The design for all the sizes is basic and looks rather plain up against its rivals. On the plus side the Kasko is lightweight and comes with mesh windows or openings on all four sides, allowing for good airflow and 360 degree visibility. Reflectors and a 2 in 1 weather screen are included along with a leash restraint hook in the interior. But that's about the best we can say about it! The product page is a little confusing and the product description is lacking in details. (Is it a 'Kasko Wagon' or a Kasco Wagon'?) The reviews are as confused as we are, with big differences of opinion. Most, however, are positive at the time of writing and so, for now, we will give this trailer the benefit of the doubt and list it here – but with some caution attached! If you're looking specifically for a PetEgo dog trailer, in our opinion, the 'Comfort Wagon' (listed below) is by far a better product – but it is more expensive!
PetEgo Comfort Wagon Trailer
Max. Weight: 75 To 165 lbs
Size: (interior) 34″ x 18″ x 22″ To 35″ x 25″ x 24″
Materials: claw-proof mesh on aluminum frame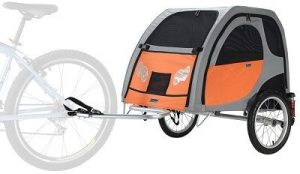 PetEgo are well-respected in the doggy product market and so when they release a dog bike trailer it's certainly worth taking a look at! The 'Comfort Wagon' is currently available in two sizes which cater for medium to large pets. Boasting an Italian- styled from Emanuele Bianchi, this smart-looking dog trailer with its light, but strong, aluminum frame rides along smoothly on its suspension. The design has zipped doors on four sides with good quality claw-proof mesh and a removable sunroof. It also possesses a waterproof floor. When not in use as a trailer it can be folded down to just 20 percent of its erected size or, just with the easy release wheels removed, it can be employed as a dog tent or soft crate. Also a stroller conversion kit can be purchased separately if so desired. As you can see the Comfort Wagon is a very versatile, well made item and reviews reflect this positively. The maximum weight of the large dog bike trailers is huge, but please bear in mind the size of the cabin as well as its carrying potential before buying it for your large pet. If everything fits then this PetEgo trailer is certainly worthy of consideration.
Kiddy Van Dog Bicycle Trailer
Max. Weight: 100 lbs
Size: (interior) 30″ x 20″ x 19″
Materials: mesh on foldable cabin frame
This pet bicycle trailer by 'Croozer' looks, aptly enough, like a soft dog crate – one on wheels, that is! The trailer is built with heavier hounds in mind but it looks like many bigger dogs would have to be content with lying down rather than sitting as there is no top opening. In our opinion, due to its shape, it would a suit smaller dog (or two) rather than a larger canine. That point aside, the strangely named Kiddy Van does have some nice features including a removable padded cushion, a water bottle holder and plenty of mesh. Some of the mesh is used on the well-sized front and rear doors whilst the rest is employed by two, long side-windows. Another interesting feature is the ability to raise the bicycle arm and tow the trailer manually like a handcart – presumably for positioning purposes or to tow it to locations where a bicycle can't reach easily. An axle hitch is also included on the tow bar. The Kiddy Van trailer is different in many ways to the usual designs we see, but these differences may limit its scope. And at the moment that seems to be the case with no input from any previous buyers. For now, then, we'll leave it in our 'Yet to be Rated' section!