We've put together a short article to help to answer this common question…
Can a Child Trailer be used as a Dog trailer?
Now, you might well ask: what's an article about child bicycle trailers doing on a site called 'Dog' Bicycle Trailer then? A fair question! The truth is, in the right circumstances, and given the right dog, child trailers can function perfectly well as a pet trailer too! There are, however, pros and cons to take into consideration…
On the plus side, a product that's built with children in mind has to be very safe and stable – at least as safe and stable as a dedicated dog trailer. Another plus is the cost: being more mass-produced many child trailers come in at a much lower price than their doggy counterparts! The downsides are all to do with the interior of the cabin itself and a dog's behaviour inside of it. As with any pet trailer it's important to note its interior dimensions and weight capacity, but if you're considering buying a child trailer for your pet it's especially imperative that you double check your measurements! Children, obviously, are not the same shape as dogs; they sit differently and they behave differently. With that in mind care should be given about a pet's compatibility with the inside of the cabin.
It's also important to recognize that some interior modifications may have to take place to make things more suitable for a dog. Child trailers tend to come with safety harnesses which don't directly help secure a dog. This is not necessarily a fatal flaw as to carrying pets, however. It may be that you already have a dog that is impeccably well-behaved in a trailer, keeping calm and content within no matter what occurs, and having no need for a leash restraint (we would always suggest that some form of restraint is used – even if your dog is predictable, the world isn't!). If this is not the case, though, with a little imagination and ingenuity it should be possible to rig some form of restraint up for a pet, possibly utilizing the connections of the harness. Some small accessories may have to be purchased separately to help with this but, as mentioned earlier, child trailers tend to be much cheaper than pet trailers and so any extra cost should be more than easily offset.
Another easy and inexpensive modification that may have to take place is with the seat of the trailer. This is, of course, designed with a human in mind and not a canine! Some smaller dogs may be quite comfortable upon these, but for most, we believe, some form of extra flooring and/or padding would be desirable. If this extra material is required then remember this will affect the available space inside the cabin.
When all is considered the answer to the question – "can a child trailer be used as a dog trailer?" – is yes – especially where small dogs are concerned! Time, care and realism should be applied in consideration over the cabin's dimensions (and your dog's!) and a preparedness to modify and adapt must be in your mentality. But when all is said and done, we see no reason that, with little research combined with a little resourcefulness, a child trailer can't be employed as a trailer for dogs too!
Below we've added some examples of child bike trailers. Take heed of the information above and also the reviews on the product pages themselves. But also pay attention to the questions listed there. It's not uncommon for questions to be asked about a child trailer's suitability for pets of varying sizes, and so some useful first-hand experience can be gleaned from the replies.
Burley Bee Bike Trailer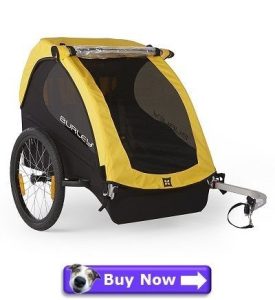 This is a very popular kids' bike trailer that some people are also employing as a canine carrier! There's no doubting Burley's experience in the trailer world and even though their products tend to be towards the top end of the price scale, you certainly get what you pay for – reliable, sturdy, well-built and attractive designs!
If you're considering this burley for your pet it's worth noting that Burley make a dedicated dog bicycle trailer – the 'Burley Tail Wagon' which is also worth checking out.
This child trailer features 20" button-release wheels, tinted rear and side windows and a safety flag on the outside. The cabin's interior boasts more nice touches including a double harness, large cargo hold and roll cage! And the whole trailer easily folds down into a nice neat parcel when not in use.
I would suggest watching the video on the product page to see how convenient and classy the Burley Bee is. If the price isn't too off-putting, this is certainly a trailer to consider whether it's for kids, pets or both! Lots of excellent reviews!
Schwinn Trailblazer Trailer
The first thing to mention is that Schwinn make a dedicated dog trailer the 'Rascal' which is available on our Small Dog Trailer page. If the intended use of the trailer is just for your dog and you like the look of the Schwinn brand we suggest you take a look there first. If, however, you want a product which will be used by children too then this model is worth considering.
This very popular child trailer is available in two color schemes: blue/gray and cyan (pictured). The prices differ a little between the two but both are still reasonable. The folding-frame trailer comes with 16" pneumatic tires, a 2-in-1 weather/bug shield and coupler which will fit to most bikes. Conversion to a dog trailer will require one or two simple little extras such as an improvised but comfortable floor and a similarly compatible installation of a safety leash – you will find some ideas on how best to convert to a dog trailer amongst the reviews and questions from those who have bought the Trailblazer with their pets in mind.
Overall, this Schwinn is a popular product with over a hundred positive reviews. Certainly worth taking a look at!
InStep Take Two Child Trailer
Without doubt one of the most popular and highly rated child trailers on the market. As the name suggests it is built for carrying two child passengers but, of course, with possibly some small adaptions, it could be used by a dog or two depending on their sizes – a quick look through the reviews will reveal others who have improvised in this manner for their pets.
The trailer itself is similar in design and style to the InStep 'Sync' trailer below. It is currently available in three colors: red; green and blue (pictured). The cabin is foldable, allowing for easy storage, and sits upon 16" pneumatic wheels. Its front entrance/exit holds a bug and weather screen and everything is held in place by a strong steel frame – the maximum carrying weight is 80 lbs.
The Take Two comes with typical extras such as a coupler which is compatible with most bikes, a safety flag and reflectors on the wheels. Of course, it also includes a double harness for children. This trailer now has over a thousand predominantly great reviews and the prices (vary between color schemes) are more than fair!
InStep Sync Bicycle Trailer
There's little doubt that InStep manufacture some of the most popular bike trailers on the market. Most of their range concentrates purely on little humans but, as mentioned above on this page, with a little imagination and improvisation, many child trailers can also be utilized by little dogs too! (Up to 40 lbs max. carrying weight.) And, indeed, they often are – a brief look through the reviews for this trailer will reveal many happy dog owners as well as parents!
This InStep Sync trailer is available in a couple of colors (red and green (pictured)) with prices varying slightly between the two – but with both still being very affordable! Their bright cabins sit upon 16" pneumatic tyres with molded rims. These can easily be removed and the frame folded down for easier storage when not in use. Extras include a safety flag, a universal bike coupler, a 2-in-1 weather shield and, being a child trailer by design, a harness. It also comes supported by literally hundreds of great reviews and a high rating!
Children's trailers can be a viable, and often more affordable, option for pets (take note of our article above to see what possible adaptions might need to be made) and you won't find many rated higher than the InStep range!